image: Seth Simmons via Twitter

In my opinion, Gillis's story is an example of how cancel culture sometimes can create real consequences for rising celebrities, without entirely shunning them off the internet. Gillis was a bit of a rising star when SNL hired him, as Comedy Central named his an "Up Next" comedian in May 2019. The 2019 Just for Laughs festival in Montreal selected him as a "New Face" in comedy that July. His rise to fame peaked at being hired as a featured cast member by SNL on September 12, 2019, which ended with his fame almost shifting entirely to notoriety, at least in the mainstream. When I Google "Shane Gillis," while the results differ slightly on my phone or my computer, quite literally the only results not about his firing from SNL are his Wikipedia page and his own website, which doesn't show up on the first page when I Google him on my computer. It's a black mark on his career he hasn't seemed to be able to wash off in the nearly eight months since.

The day Gillis was hired at SNL, freelance journalist Seth Simmons tweeted a clip of Gillis and Matt McCusker making racially insensitive jokes about Asian people from their podcast 11 months prior. The clip went viral, with over 4.6 million views as of May 2020, and 17.7K likes on Twitter. It prompted a discussion both on the post and in other spaces online. In the replies of Simmons's tweet, the journalist shared the source of the clip, as well as another clip highlighting Gillis's offensive language. While I'm not super familiar with how Twitter's algorithm for organizing replies works, most of the top replies express disgust with Gillis's language, including one that flatly asks "What's the shortest amount of time an SNL cast member has lasted" (@42Shanes). Part of the replies section works to correct McCusker's language around Chinese food, which included calling Chinese food "a very dishonest cuisine" and saying that MSG was "a f***ing" chemical" invented by Chinese people to make it taste good and to "f*** your body up;" as @MikeyBustos writes, "Monosodium glutamate was invented in Japan, it is a naturally occurring flavour called 'umami' found in fish, seaweed, mushrooms, cheese, etc, is created by fermentation (a natural process like making beer, yogurt, or pickles), and sodium added to make it more soluble for food." In a further tweet he replied, "PS - Don't be racist." Comments like this are interesting because they go beyond simply being angry at the comedians, as they seek to also educate others and prove that the comment McCusker makes about MSG, and therefore the status of Chinese food as being "dishonest," is based in being ignorant of facts.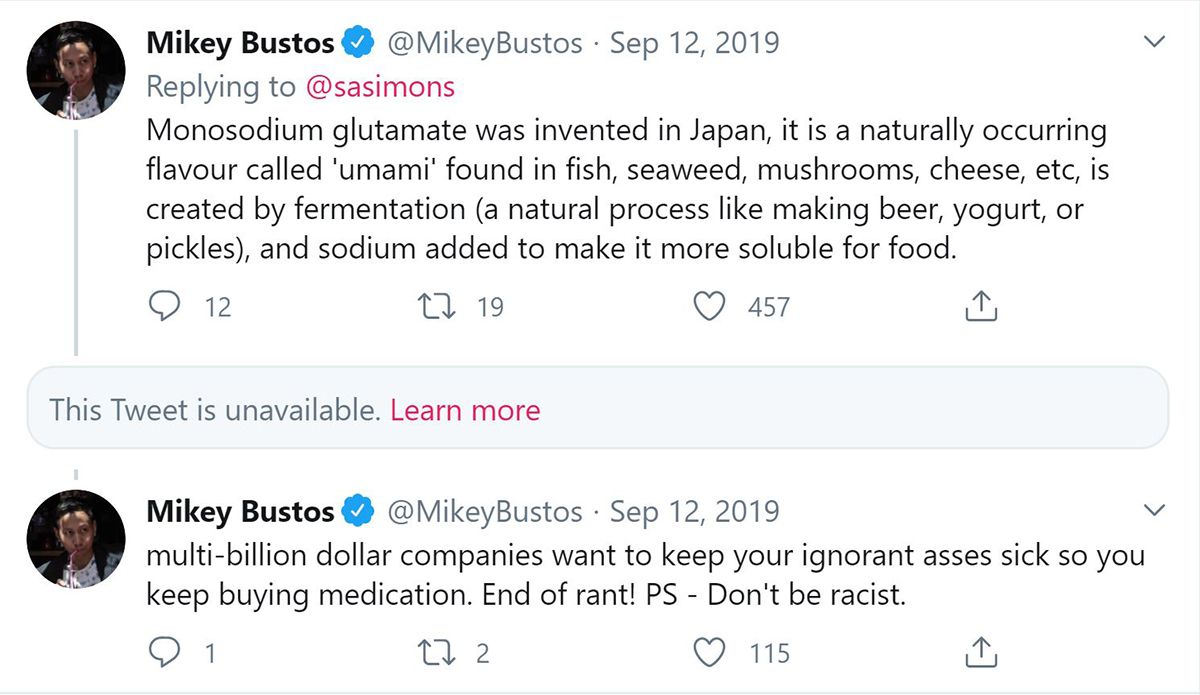 While most of the video is actually McCusker talking and Gillis agreeing and adding in a few lines, his use of the word "chink" and his referring to Chinese people as "Chinee" mutliple times in my opinion solidifies his views as being similar to McCusker, especially considering they run a podcast together as a duo. A few commentators note on the timeline of this work, since it was released in 2018; Dan Duvall writes, "Saying 'Chinee' is so tired, hack, offensive, lazy, weak comedy. It's exhausting. These dudes suck there's like a million funnier people they could have hired. So lame… Not to mention the dude is straight up throwing out racial slurs in f***ing 2018. Yikes" (@lazerdoov). I think that we live in a time that we've been exposed to comedy as a medium or excuse for racist comments for so long that many people are tired of it, and want to see something new, especially from big shows like Saturday Night Live. Apparently, in 2016, McCusker and Gillis ran a comedy show that they intended to use as a way to test what people would laugh at, and found that with their audience, the only things out of bounds were "police brutality and domestic abuse," but that things like racism or terrorism were still considered funny. Specifically, he says, "You can be racist to Asians. That's what we're finding out," which one Twitter user screenshotted and posted without context under Simmons's clipped video of Gillis (@nickliao). While there were a few comments defending Gillis, calling him "hilarious" (@OvOkafor) and "great" (@TheBigNickJ), most are negative and express anger towards both the comedians and also SNL for hiring Gillis.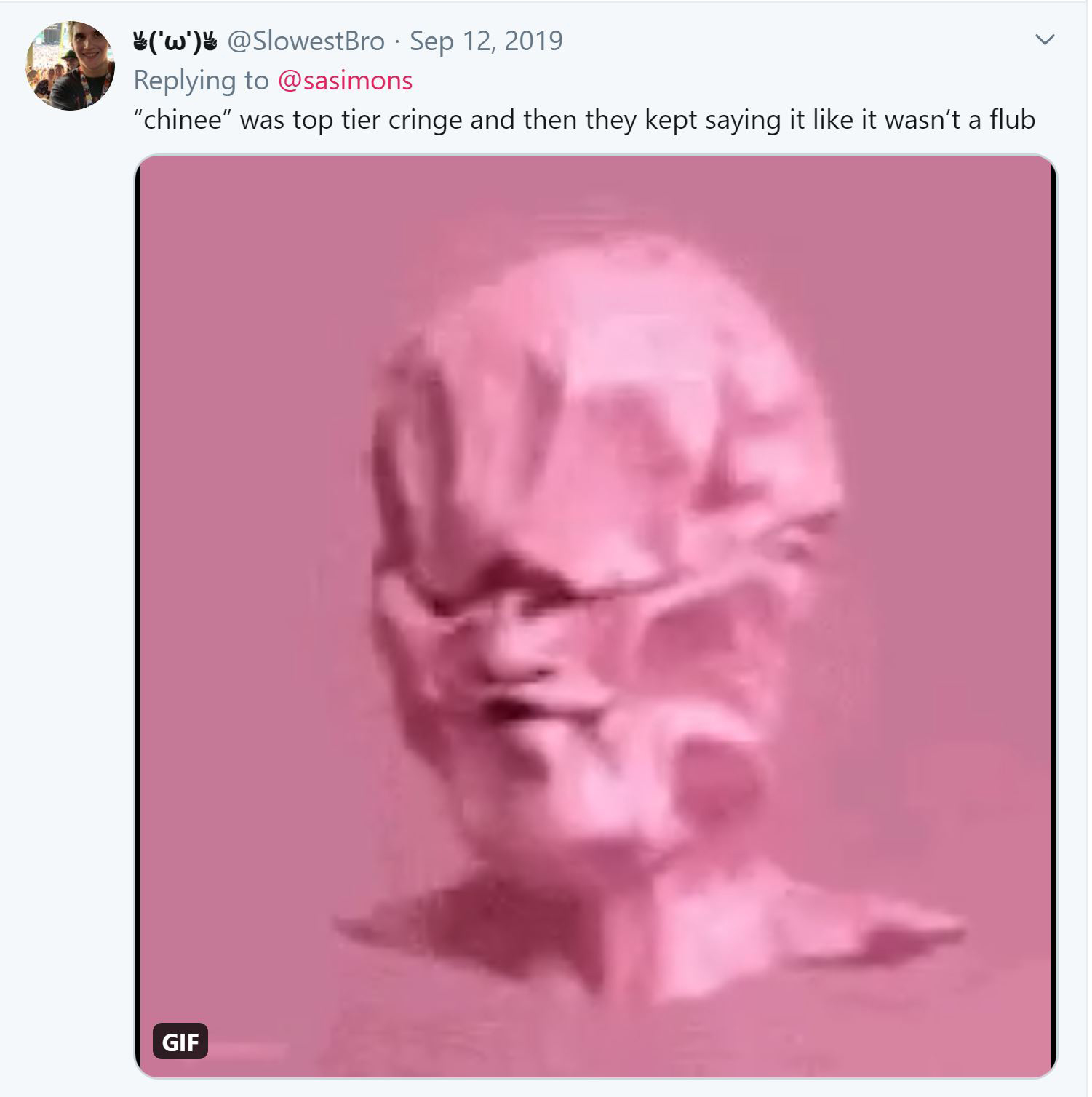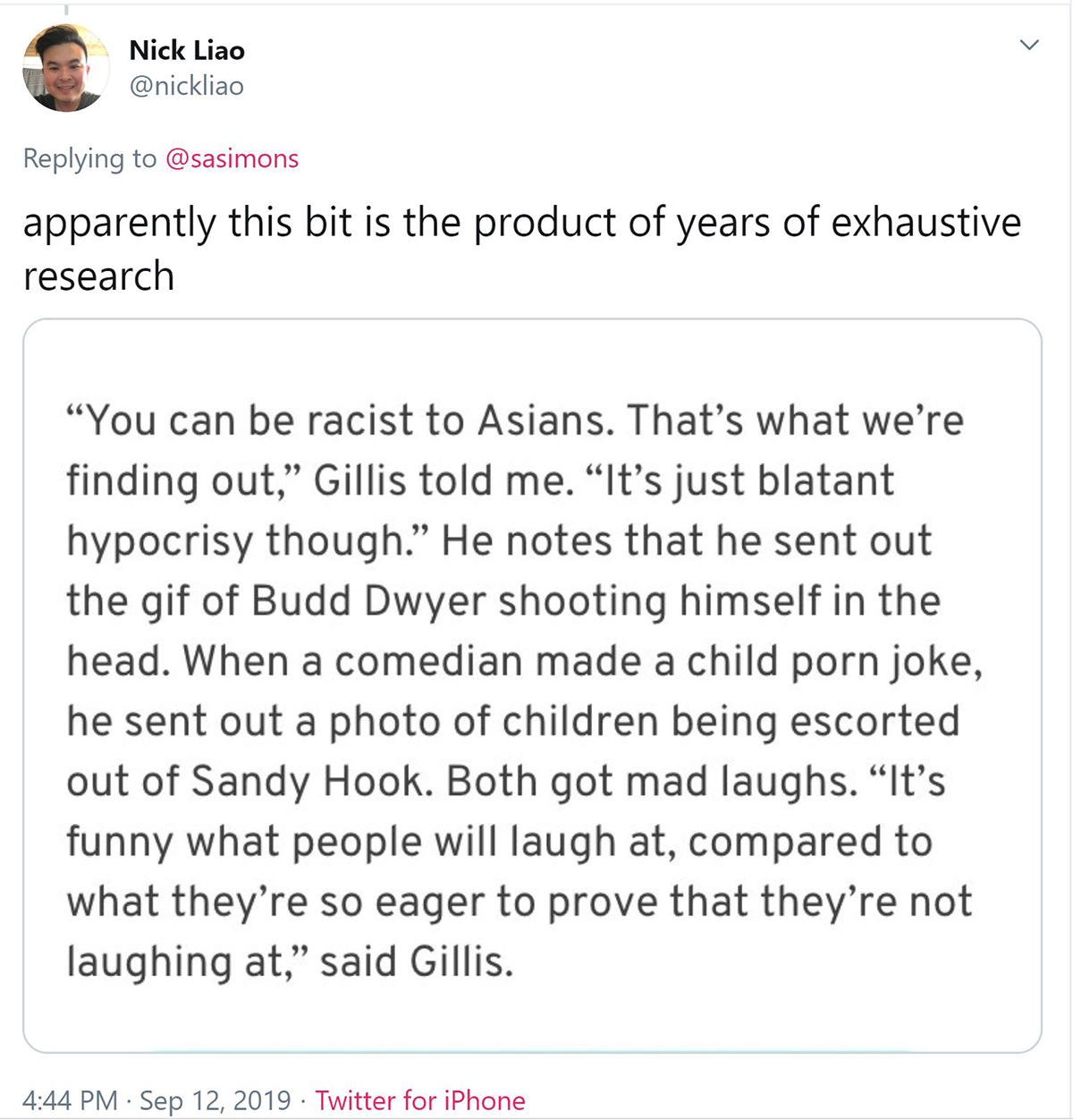 Another aspect of this story that interested me was how news sites discussed Gillis, particularly how many directly reference Simmons' popular video Tweet about him (1, 2, 3). While Simmons is a member of the traditional media as a freelance journalist, by delivering his clips on Twitter, he performs to a potential daily audience of 152 million users. Twitter allows content to go viral through trending words and tags in a way traditional media doesn't. It also allows Simmons to refer to Gillis derisively as "this guy," and uses Twitter's platform to promote discussion on the comedian's place at SNL. However, using the form a video clip to demonstrate Gillis's offensive comments is also significant, as it's the most undeniable evidence of someone's actions we have right now. It also allows for news articles to link back directly to Simmons's tweet, prompting likely further comments and discussion on Twitter. While for R. Kelly, I looked at the Lifetime docu-series and a BuzzfeedNews article as sources for the internet backlash the musician received, Gillis's origin of internet notoriety is a tweet. While the Buzzfeed article or Lifetime series made viewers leave their social media feeds to see the source, in Gillis's case, it was viewed over 4 million times within the site, creating likely more conversation.

Considering that intentionally offensive comedy seems to be Gillis's style, and considering his success within certain comedy audiences, I think the backlash on him is demonstrative of how we hold more mainstream names and shows to a higher standard in recent years. In my opinion, his lack of real fame before this also allowed him to be effectively wiped off the mainstream comedy scene easily. This is in contrast to comedian Louis C.K., who "admitted he'd routinely pressued his co-workers and other women into watching him masturbate," but still has over 200K Twitter followers, arguably some of which watch him "entirely out of spite," but likely some more genuine fans. No matter the reason for people to watch Louis C.K.'s new special, the fact is that headlines still feature his name and people watch and review his works. Despite his admitted sexual harassment, it appears to be impossible to remove someone from the public light once they've been so thouroughly in it for years. In contrast, Gillis hasn't been making headlines other than the ones associated with SNL in September of last year.

Gillis's lack of mainstream success after being called out publicly for his racist language demonstrates how cancel culture can be effective towards budding celebrities. It also demonstrates how we have higher expectations for comedians than we may have in the past. Maeve Higgins, a writer for the New York Times and a comedian herself, writes about this from a perspective within the industry. She talks about comedy having the potential to be beautiful and create real connections, and yet that opportunity is taken away from many unheard voices when the same stories are heard over and over again.
Comedy, like so many of our cultural institutions, remains dominated by men, usually straight and white men. I've seen countless versions of Shane Gillis and his material truly spread all over the world, and I'm not about to wrestle the mic from them. I have no problem with anybody speaking their piece, even when it's lazy and xenophobic. I'm not going to listen, but please, get that off your chest, son! If the most absorbing and insightful thing Mr. Gillis and his buddies have to sound off on is that they find Chinatown to be ugly, then by all means, go right on ahead.
She argues that people mad at Gillis's firing show their privilege, and that "just because you want a job on "Saturday Night Live" doesn't mean you deserve one." Higgins's perspective, as a fellow comedian, is interesting, as she takes less issue with his language than simply the expectation that his voice is new and interesting, and therefore qualifies to be heard at places like SNL. I think both people who are concerned with the racism in Gillis's recent language and those who think his voice is tired and heard before have completely valid points. Cancelling Gillis creates space for more voices, ones we can hope do not try to alienate entire groups of people in their comedy, and ones we can hope will tell unheard or underrepresented perspectives.